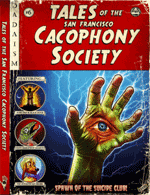 A template for pranksters, artists, adventurers and anyone interested in rampant creativity, Tales of the San Francisco Cacophony Society is the history of the most influential underground cabal you've never heard of.
Rising from the ashes of the mysterious and legendary Suicide Club, the Cacophony Society, at its zenith, hosted chapters in over a dozen major cities, and influenced much of what was once called the underground. The Cacophony Society's epic exploits radically changed the way people live and play in the world. The group inspired Chuck Palahniuk's Fight Cluband Burning Man and helped start pop culture trends including flash mobs, urban exploration, and culture jamming. A large-format, full-color, hardbound homage to this protean group, Tales of the San Francisco Cacophony Society is packed with original art, never before published photographs, original documents and incredulous news accounts.
From Fight Club to Burning Man, Flash Mobs to Santarchy cacophony influenced everything subversive, playful and anti-authoritarian in popular culture over the last 20 years – this is the great, untold story of the 1980s and '90s.
"Before the Internet vomited headlines by the millisecond and turned the minutia of a million boring Facebook lives into news, we were left the privilege of mystery. This was something The San Francisco Cacophony Society gave me in spades. Over the years, I would catch glimpses, collect pieces of a puzzle I was slowly assembling—a car crushed flat by an earthquake miraculously tooling down Golden Gate, toasters glued to buildings, news-clips of mock protests and costumed impostors, flyers for strange art spectacles. Now the puzzle is assembled in this gorgeous graphic collection, a book every lover of eccentricity and enemy of the status quo should enjoy." – Margaret Cho